SkinCeuticals
SkinCeuticals
has applied countless resources toward scientific research and development of its products. In particular, Rx Skin Solutions likes their Foaming Cleanser, Toner, Vitamin CE Ferulic Drops and the SkinCeuticals Sunblock. Skinceuticals focuses on Prevention, Correction, Moisturization and Protection. UV radiation from the sun causes up to 90% of photoaging, which manifests itself as fine lines, wrinkles, hyperpigmentation – and even skin cancer. It is critical to use the best broad-spectrum sunscreen, like that offered by SkinCeuticals.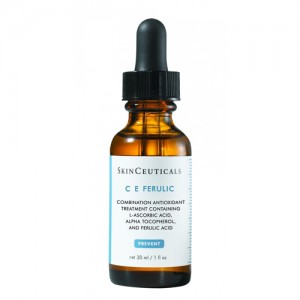 SkinCeuticals Vitamin C E Ferulic
Prevents and defends against environmental aging.
$145 + $4.50 Shipping and Handling
WHAT IS IT FORMULATED TO DO?
C E Ferulic® is a revolutionary antioxidant combination that delivers advanced protection against photoaging by neutralizing free radicals, boosting collagen, and providing unmatched antioxidant protection. More protection means more youthful looking skin and better defense against environmental aging. Once absorbed, this serum can't be washed or rubbed off. It remains eective for a minimum of 72 hours, making it an excellent addition to sunscreen.
KEY INGREDIENTS
· L-ascorbic acid - Pure Vitamin C: Super anti-oxidant · Alpha tocopherol - Pure Vitamin E: Moisturizes and improves elasticity · Ferulic Acid: Protects skin cells from environmental damage. Fuels the benefits of Vitamins C and E
KEY BENEFITS
· Provides advanced environmental protection against UVA, UVB and infrared radiation · Stimulates collagen synthesis to improve signs of aging · Increases firmness · Helps prevent skin cancer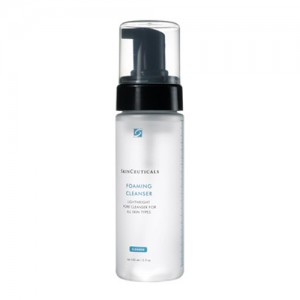 SkinCeuticals Foaming Cleanser
$33 + $4.50 Shipping and Handling
WHAT IS IT FORMULATED TO DO?
This lightweight cleanser for all skin types deep-cleans pores, removes excess oils and clears surface impurities leaving the skin feeling completely refreshed. Foaming Cleanser is perfect for removing makeup and preparing the skin for SkinCeuticals advanced antioxidant treatments. This mild, non-drying, fragrance-free cleanser contains gentle non-allergenic ingredients to prevent irritation.
KEY INGREDIENTS
· Non-allergenic ingredients — less likely to cause allergic reaction · Botanical extracts
KEY BENEFITS
· Non-irritating · Removes excess oils without causing dryness · Perfect for removing make-up · Ideal for all skin types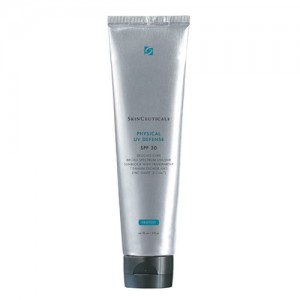 SkinCeuticals Physical UV Defense SPF 30
$38 + $4.50 Shipping and Handling
WHAT IS IT FORMULATED TO DO?
Optimal for sensitive or traumatized skin and safe for children, Physical UV Defense is a true broadspectrum UVA/UVB sunscreen perfect for daily use. This cosmetically elegant, all-physical sunscreen contains 5% transparent zinc oxide and 10% titanium dioxide, two non-irritating active ingredients ideal for use on all skin types. Breakthrough dispersion technology minimizes the "whitening" Eect commonly found in other all-physical sunscreens by equally distributing reduced sunscreen particles.
KEY INGREDIENTS
· 5% transparent zinc oxide, Z-Cote® · 10% titanium dioxide · All-physical formulation · Contains no chemical sunscreen ingredients
KEY BENEFITS
· True broad-spectrum UVA/UVB protection · Non-chemical sunscreen · Transparent and non-whitening · Moisturizing and healing properties · PABA-free, oil-free, and fragrance-free · Elegant formulation ideal for daily use and can be applied under makeup · Formulated for skin sensitive to traditional sunblocks and post-treatment patients